Product Overview
Forté Nerve health supplement provides key nutrients that your nervous system relies on for effective and long-lasting function. In addition to B complex vitamins that are critical for nerve function, this product contains a variety of vitamins, minerals, and nervous system supplements that have been shown to influence long-term nerve health. Care for your nervous system and maintain your nerve health as you age with Forté Nerve.
Customer Reviews
Write a Review
Ask a Question
10/18/2019
Marie C.
CA
I recommend this product
Received only 2 weeks ago. delivery time sucks.
Too early to tell, been suffering from Polyneuropathy & Osteoarthritis, Chronic pain, since I started taking, I am so weak and so sleepy, in bed all day. never been like this. Probably just a coincidence. No doctors, specialists are helping. they don't listen or believe a word I say. Noticed that Quads don't hurt as much, my back, neck are very painful, my spine is very damaged but since I started B12 the burning is gone for good I hope but not on my feet. They're all cracked, pin & needles and on fire. ONLY T4/CODEINE gets rid of the pain for a couple hrs. Clonazepam stops tremors. Gabapentin does not work. Will continue to take it for a few more months & see what happens. Have a nice day, Marie.
10/14/2019
David C.
US
I recommend this product
Forte for Perennial Nerve Damage
I started taking AM and PM pills daily about a month ago. I haven't noticed any signs of my nerve coming back yet but as it's a long process I'll know in after a few months. So not sure if it works but it doesn't hurt to try!
03/07/2019
Charlene K.
US
I recommend this product
Trying Forté elements for nerve and brain
I have just started using Forté Elements for nerve and brain. They were recommended by my physical therapist to help regenerate the nerves in my legs. I strongly believe in using natural supplements rather than prescribed medications. I feel they have begun to help some and plan to continue using them. I'm hopeful for even a bigger difference after a few months of taking them. I rated these a four only because I have just recently began taking them.
01/19/2019
Stefanie O.
US
great
Love my Forte products! One of my orders got lost, they sent another one immediately! Great products and service 👍🏻
Excellent products, Superb Customer service
it was awesome ! we have misplaced order, once we contact them they straight away solved it All Products are highly Nutrient
Love the products!
Love working with Forté and really happy with our products. My husband uses the am/pm nerve supplements and only complaint is that he burps the fish oil especially during the day. I wish the amino packets tore open easier/cleaner (perforated/clean open somehow would be nice) I use scissors at home but also keep them in my bag for on the go and that is when they are annoying. Minor, but honest feedback. Looooove the wild berry flavor especially.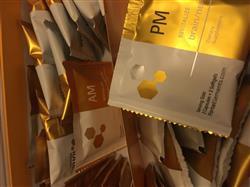 Easy to Order
The amino acids were very easy to order and set up for an auto pay so that I don't have to order them over and over.