Multi-nutrient support for breaks and fractures.
Forté Fracture is a comprehensive nutritional product designed to accelerate and support fracture and bone healing. This blend of vitamins, minerals, amino acids, and other micronutrients targets the injury site and supplies the essential nutrition needed to support bone regeneration, tissue repair, and a strong immune system during recovery.
Focused nutrient supplementation delivers more targeted, specific support for fracture healing than individual supplementation. Accelerate the mending of fractures and regain your active lifestyle.
Orthopedic surgeon formulated and trusted by many ncaa division 1 schools, forté elements bone fracture supplement boasts a blend of antioxidants, anti-inflammatories and amino acids to promote healing.
Meets or exceeds the recommended daily allowances of 21 essential vitamins and minerals in 1 efficient dietary supplement. Contains coq10 to enhance absorption of key nutrients that speed healing.
Delicious and easy pre-measured individual packets are travel-friendly and offer complete nutritional vitamin supplementation at home and on the go. Simply mix into milk or a smoothie recipe and enjoy.
Pharmaceutical-grade facilities adhere to rigorous quality controls to ensure product potency and consistency. This product is not intended to diagnose, treat, cure or prevent any disease.
30 day supply - Chocolate Malt-flavored
"The" Bone Healing Supplement. Science-based, targeted nutritional support for optimal fracture healing.
"Fracture is the best and most all-inclusive product to facilitate healing when a bone is involved."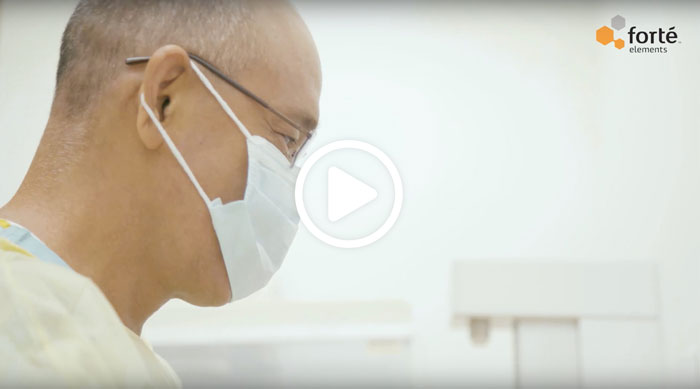 Customer Reviews
10/07/2019
Gary S.
US
I recommend this product
Forte Fracture Care
Everything went well. I feel as though the daily supplement aiding in speeding up the recovery process.
09/25/2019
Laurie R.
US
I recommend this product
Outstanding Product!
My 14 year old son broke both of his arms on a trampoline. The Fracture Healing Supplement helped his recovery time tremendously. The shake tastes great and is well worth the price! After having surgery and two full arm casts he is back to playing his guitar!
08/20/2019
Barbara F.
US
08/03/2019
Kevin S.
US
I recommend this product
Great product so far!
I just started taking Bone and Fracture today one week out pre-op. Milk, water and ice in a blender makes a super tasty chocolate malt. More to come...post-op
07/29/2019
Tamara W.
US
I recommend this product
Fracture
Haven't finish and go back to the doctor in 2 weeks. Well know more then.
I recommend this product
Great product
It has been a very good experience so far. Very quick to respond to questions. The product is very tasty as well!! We are hoping it helps stop any more fractures.
I recommend this product
Fractured bone
Awesome my boy was back and playing ball after 8 weeks.
I recommend this product
Forte Fracture Supplement
My physician recommended that I get the Forte Recover Fracture supplement. I have been taking it for about 4 weeks. It is an easy to mix and a pleasant tasting drink. I occasionally add a banana which does enhance the flavor. I can say the fractured tibia does feel better although I can't tell if the fracture has completely heeled . Will see the doctor in 10 days and will know more after it is X Rayed
03/08/2019
STEPHANIE M.
US
I recommend this product
recover fracture
Excellent product, fast delivery
I recommend this product
Super fast healing
I had a severe ski accident where I shattered my collarbone in 20+ pieces and I broke 7 ribs in 15 places. Was in the hospital for a week and had surgery. I ordered the product from my hospital bed thinking what the heck, I'll try anything at this point. I took it religiously on a daily basis making a smoothing with ice, water, a banana and some dark chocolate. When I went back for my post op 6 week visit and xrays my orthopedic literally gave me high fives and did a little victory dance. The rate at which I healed was unreal. I was skiing again 3 months later. I eat right and stay in good shape but this was pretty remarkable and I have the xrays to prove it.
01/15/2019
Marina Gorelenkova
Fast Healing
Very, very fast healing!!
Sped up the healing process
Great product. Tastes pretty good and it works. I needed to heal up my fractured tibia quickly.. I healed up very quickly and the bone is getting stronger. About to order some more in preparation for 6 months of intense training. I drank this every other day to extend the amount of product. 10/10 getting it again!!
Excellent Product
I used this product for after surgery support for a lower back fusion. When you have a drink for 30 days, you usually acquire a dislike. However, I think this is the best tasting supplement I have ever had! It comes in a 'Chocolate Malt' flavor, but I never tasted an overbearing malt flavor, which for me is a good thing. I have been off of it a month and find myself wanting more! Modern and convenient packaging keeps you on course for recovery and bone support.
Forte Fracture I have been taking the Forte Fracture product for three months. I was having difficulty getting my femur fracture, that occurred a year and a half ago, to heal. After an unsuccessful bone graft, my physician recommended I take Forte Fracture. I started taking it three months ago. Since taking Forte Fracture, my x-rays have shown mending and continued healing. The chocolate flavor tastes fine even though my stomach has a hard time handling chocolate so I mix the product with milk because I like extra calcium and it helps dilute the flavor.
05/19/2016
Teresa Leavitt
Fracture Recovery Our teenage son has
Fracture Recovery Our teenage son has suffered numerous fractures due to his OI (brittle bones). This last time a friend introduced us to Forte Fracture Recovery. We found blending one package with a banana and about a cup of milk was the best "recipe". The orthopedist was very happy with the progress between surgery and the three week follow-up. It's hard to say the impact of this product, but we are very excited that work is being done that could potentially prevent, reduce, or help heal fractures, especially for someone more prone to broken bones.